The Cook & The Carpenter Bakeshop
Small Batch Baking
Making things by hand with Love
Illustrations by JoAnn Boscarino, The Carpenter
Small Batch Baking
Here at The Cook & The Carpenter Bakeshop I value Quality over Quantity. The concept has always been Small Batch Baking: one baker with a troop of helpers here and there. Whatever I make that day is what is available.
I use good quality ingredients, mostly things you might find in your own kitchen—butter, eggs, flour, sugar, honey, etc. Our baked goods are not supposed to last a long time on your counter because there are no preservatives in anything I make.
So in order to keep the Quality high, I keep the Quantity low.
Our Story
The Cook & The Carpenter Bakeshop is a marriage made between a cook and a carpenter.
Sam Castillo, The Cook, met JoAnn Boscarino, The Carpenter, 17 years ago at a local eatery in Highland Park. When they got married the theme for the wedding was The Cook & The Carpenter. Over the years they have used their skills to create beautiful dinner parties, build fabulous furniture and make their friends feel welcomed in their home.
It just seemed natural that when the new business was being developed, they would name it The Cook & The Carpenter Bakeshop. Jo did most of the work in the front of the house, reusing and up-cycling all sorts of materials while Sam got to work baking breads and tasty treats for the whole neighborhood.
The entire concept, store, and business model is a labor of love not just by Sam and Jo but from a group of wonderful friends who helped make the Bakeshop what it is today.
Some of The Bakeshop favorites —
Cranberry Pecan
Perfect with a morning cup of tea or for dessert—you can choose!
Italian Bread
Just too good to have only one slice.
Baguettes
When looking for that perfect hostess gift, choose a bread that goes with everything!
Smoochie Pies
Many layers of an all-butter crust, simple fruit fillings with a tasty glaze on top. Just one is enough and yet…
Sea Salt Chocolate Chip Cookies
So good they should be Illegel!
Yummy Fudgy Brownies
As Katherine Hepburn famously said: "Never quit, be yourself, and don't put too much flour in your brownies"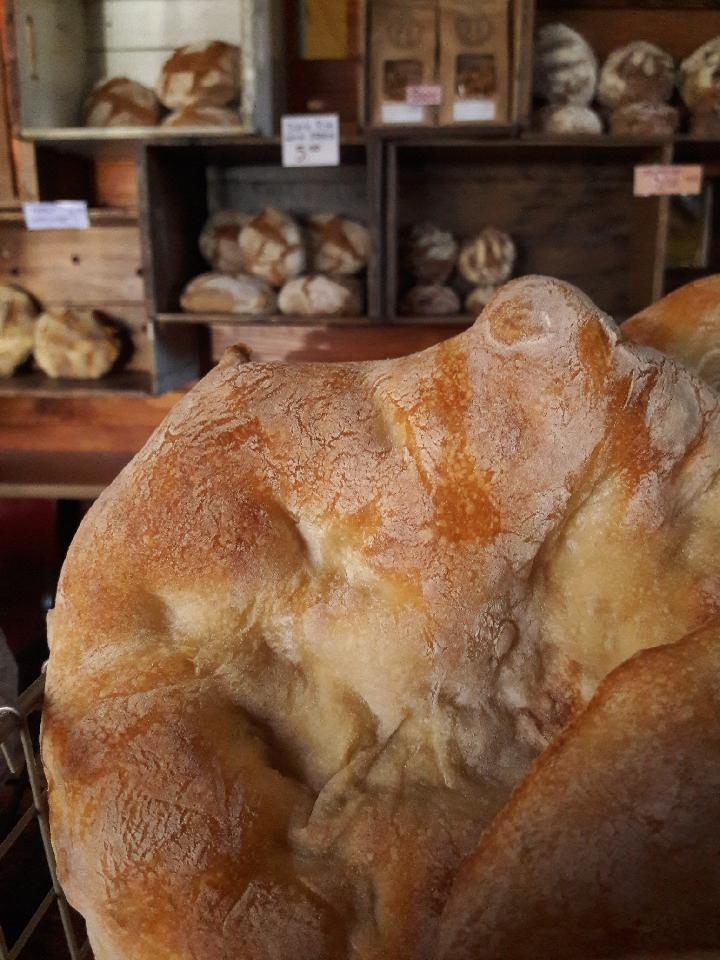 Small Batch Locals
We are not the only Small Batch in town!
We carry Jams by Kim & CAP·SAI·CIN.
Jams by Kim is an artisanal food company creating all natural Jams, Jellies and Preserves
Flavors will change seasonally.
Here is what we have as of April 2019:
Tomato Orange & Ginger

Mixed Berry

Pomegranate & Orange

Bartlett Pear & Strawberry

Strawberry Habanero

Roasted Garlic & Sweet Onion

Carrot Ginger

Berry Habanero
CAP·SAI·CIN owner and founder David Bell loves chiles. He lovingly grows every pepper that goes into his hot sauce and ground chile powder.
We are carry the following:
Sriracha- Habanero

Sriracha- Superhot

Smokey Disturbance- Igneous

Smokey Disturbance- Semi-Molten

Joyful Noise- Igneous

Joyful Noise- Semi-Molten

Magma Nuts 1/2lb
Location
208 Raritan Ave
Highland Park, NJ 08904
Summer Hours as of June 6
Thursday/Friday 12-7
Saturday/Sunday 10-3
Closed Mon/Tue/Wed
We may close early if we Sell Out.
We will update availability on social media or click here for the availability update on Instagram.
Contact
(732) 354-4222
info@thecookandthecarpenterbakeshop.com